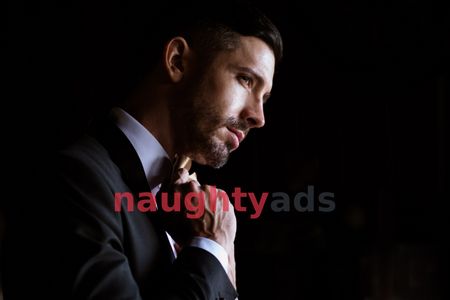 Escort For:
Women, Couples
Hair Colour:
Brunette, Grey Hair
In-Call / Out-Call:
Out-Call
Sexuality:
Straight (Heterosexual)
Last Update:
June 12th, 2021
Hi, I'm Tyler.

Thank you for taking the time to look at my page. I'm an erotic art / male form model. For years I've been complemented on my dating skills, whether it be making someone comfortable or getting them to open up and ultimately connecting with them... It's always been something that I have found to be a most fulfilling and rewarding part of my life. I like to understand my dates, what makes them tick, what their desires are. I want to make them laugh. I want them to experience something that they have always dreamed of. I want to share what I have learnt over the years.

So I've come to this site to share what I love doing. I want to meet you. I want to charm you. I want to entice you. I want to fulfil your desires.

While I'm great at a standard date, I also have a little experience in what some would call the 'kinky' side of sex. While 50 shades isn't for everyone, If this interests you I encourage you to reach out and discuss what services I can offer.

I have maintained social media accounts for several years now. So that you can take a look into who I am - I post regularly on Twitter. All the links are here in this bio so check them out :) I hope that this will provide you with a bit more of an insight into who I am. Please feel free to contact me to discuss your needs, I can assure you that I'm practically the "James Dean next door" :-) . Contact me to have a chat and let's see where we can take this.

I look forward to meeting you. xo
My Testimonials
"I had the absolute pleasure of meeting Tyler this week for what I thought was going to be a few hours of fun - and was so thankful that he agreed and was able to extend to an overnight after the booking had started. This was not my first time seeing a male escort - yet he was able to pick up that I was feeling nervous when i hadn't really acknowledged it myself, and put me at ease. Safe to say we had a really lovely night & morning together (and all I'll say about the action is that this man knows what he's doing ). Thank you beautiful man - I appreciated being able to spend some time in your space, and won't be hesitating to book again xxx"

"Tyler was my first experience of this nature. I was incredibly nervous and unsure of what I wanted, but he has a very relaxed and calming nature that helped me feel much more at ease. His communication is both professional, open and fun which really helped me figure out what I wanted. More so, he has a genuine depth of personality, so simply being in his company was a delight. In terms of his capabilities in the bedroom..... he was significantly better than my $300 vibrator, which no other man has ever beaten, and he's even sexier in real life than his pictures seem definitely need to see him again!"

"I had the best experience booking Tyler this week. Bdsm is something I wanted to try for many years and so many of my deepest fantasies became a reality with the utmost amount of pleasure. He made me feel comfortable instantly and he goes above and beyond with the amount of effort he really puts into it. Everything he did he does extremely well! I did not feel pressured or pushed too far beyond my limits. Everything from his perfect looks, personality, to his touch makes being in the moment: completely- easy with your mind falling apart into a haze of thoughts of only extreme pleasure and nothing else. The outside world disappears, you are in a state of extreme desire and lust, completely mesmerised. This man is magic and he can read body language very well and will make you and delivering pleasure his priority. I cannot get enough. This experience has opened my eyes to the world of kink and I couldn't imagine a better person to book and experience this with. I look forward to booking him again soon for more."
Twitter:
@tylermathews_au
Instagram:
@tylermathewsbrisbane
Website:
www.tylermathews.com.au
Due to state legislation I am unable to provide clickable links to my social network or website. You can contact me for further information.
Please let the advertiser know you found them on Naughty Ads.
Teasing
Escort
Full Service
MFF
Overnight
Toys
Fetish
FFM
Due to state legislation I am unable to provide complete details of my services. You can contact me for further information.
Only punters can view this section. If you have a question for the advertiser, please contact them directly.
No reviews yet. Be the first to leave one.