Sexuality
Straight (Heterosexual)
Escort For
Men, Women, Couples
In-Call / Out-Call
In-Call, Out-Call
Last Update
January 21st, 2022
In a vast sea of stunning high class Sydney escorts, we aren't surprised
that this ravishing green-eyed glamour has caught your eye.
Kikki truly is one of a kind, yet she might look familiar to you… That's
because she is the spitting image of the award-winning American pornstar
Lana Rhoades. From her alluring intense eyes, her soft full lips and
electric smile, to her petite pocket rocket figure, sunkissed skin, long
slender legs, peachy booty and insatiable appetite for FUN – Kikki could
easily be mistaken for Lana herself. And much like the famous porn
starlet took the adult industry by storm, this Sydney escort has gained a
legion of her own fans, and rightly so.
A triple threat of undeniable sexiness; a fun, bubbly and engaging
personality; and a wild unparalleled sexual prowess – this tastefully
tattooed Australian escort is the perfect package. Kikki is a party girl who
loves to let loose and enjoy herself, making her the perfect partner for
memorable night out on the town, or a party just for two in your hotel.
Intimately, Kikki offers an experience that is far from ordinary. A hedonist
at heart, this free-spirit loves living life to the fullest. You will find her
spontaneous spirit, carefree attitude and charming personality
reinvigorating. When she greets you with a warm hug and kiss, you will
feel a sense of familiarity – as if you are catching up with a lover you
haven't seen in a while. Kikki as she has a knack for making people feel
instantly at ease.
Whether you seek a transient hot affair or a longer, more luxurious
rendezvous where you can truly savour the moment, Kikki is an expert at
creating a sanctuary of unrushed seduction, mindblowing pleasure and
new sensual heights for you, where you can totally relax and just be in
the moment.
Time spent with Kikki will never feel rushed. You'll leave her presence
with a satisfied smile on your face and a spring in your step, but rest
assured, she will linger in your memory for a long time.
If you're a man with impeccable taste who seeks a remarkable experience
with the best that life has to offer, you must experience what Kikki has to
offer.
Call us to arrange a date with the glamourous Kikki today.
My Testimonials
Gorgeous young girl ,  very pretty face, had a great time with this Sydney escort
BBBJ
CIM
Costumes and role play
Doggy style
Gagging
Happy ending
Kissing
Mutual French (oral)
Mutual natural oral
School girl
Sexy shower for 2
Dirty Talk
Escort
Massage
Affectionate cuddling
Affectionate kissing
Couples
DATY
GFE
MFF
MSOG
Overnight stays
PSE
Sex toys
Social escort
Overnight
Passionate Kissing
Toys
Dinner companion
Full oil massage
Light spanking
Rimming - On me
Submissive
FK
Natural oral
Strap on - on me
FFM
Due to state legislation I am unable to provide complete details of my services. You can contact me for further information.
Only punters can view this section. If you have a question for the advertiser, please contact them directly.
No reviews yet. Be the first to leave one.
Slippery When Wet: Best Shower Sex Positions With HUSH Escorts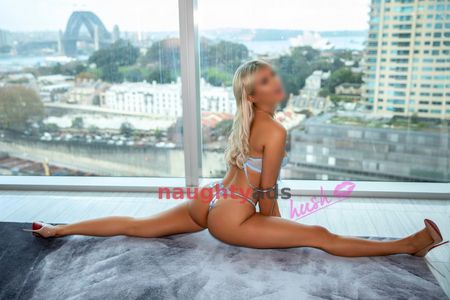 Slippery When Wet: Best Shower Sex Positions
In our imaginations (and in the movies) shower sex is the stuff of fantasies. Afterall, what's hotter than making out and having sex in the shower with someone who's naked and slippery with soap, as water cascading around you. Shower sex is inherently hot because it comes with a sense of urgency.
But if you've ever had shower sex, you've probably found that the reality didn't live up to your steamy fantasies (and it probably just felt downright dangerous). However, shower sex can be every bit as incredible in real life, you just need to bear a few things in mind.
Here are five of our tips for having better shower sex with our gorgeous escorts from our escort agency.
Shower sex doesn't have to be about penetration
Depending on the size of the shower, sometimes penetration can be impossible, so don't force it. Shower sex is better for foreplay, anyway. It lends itself to hot oral sex and is great for touching, teasing, kissing, rubbing and exploring each others bodies.
Pick your positions wisely
Avoid positions that require either parties to balance in any way – this is a slippery disaster waiting to happen. The Standing Doggy is your friend when it comes to shower sex, and should be your go-to. To ensure you both stay stable, have her put her hands against the shower wall and bend towards it at a 45-degree angle, keeping both feet on the ground. You can then penetrate her from behind, while reaching around to stimulate her breasts or clitoris.
Use sex toys designed for shower sex
If you're really dedicated to having sex in the shower, invest in some shower sex toys.
Yes, there are companies out there who make sex toys designed to help you have more comfortable sex in the shower. For example, Sex In The Shower makes a product called the Single Locking Suction Handle, which are basically handles attached to strong suction cups that cling to the shower walls so you can achieve more adventurous positions in the shower or bath.
There are also thousands of waterproof sex toys out there – from waterproof vibrators to cockrings - that you could bring into the shower to add some excitement to your play.
Be wary of soap
Covering your partner is soapy suds might seem sexy – until you get soap where it shouldn't go. Try not to get soap in each other's eyes, mouths or urethra – especially if it's a scented bodywash. Never use soap as lube – ensure you've got a lube in your shower caddy ready to go.
Use silicone-based lube
Which brings us to our next point… water isn't a substitute for lube. If you've ever had sex in a pool or a spa, you'll already know that water can be quite drying. Waterbased lube will just wash away, whereas a silicone-based lube has a thicker consistency and tends to be longer-lasting. Avoid oil-based lubes as they tend to degrade latex condoms. You might find you have to reapply the lube more than you normally would, but it will ensure things stay slippery and comfortable for all.
Ready to get steamy? Give us a call to arrange a booking with a high class Sydney escort today