Sex Positions That Will Make Sex Less Painful
Share
Written on July 12th, 2022 by
Naughty Ads
Updated July 12th, 2022.
Viewed 117 times.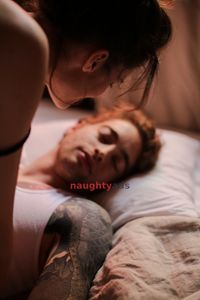 Essentially, anything that involves sex should be fun. If you experience painful sex, it could be due to many reasons, including dryness, vulvodynia infections, intact hymen, and quite unexpected, wrong sex styles. With all the hype about sex styles and how they play a significant role in sexual satisfaction, it's a bitter pill to swallow that they could be the cause of your misery in the bedroom. While seeking medical attention should be the first option in cases of painful sex, here are some sex styles that will help alleviate the pain.
1.     Spooning
In most cases, spooning is done after sex. This time, we recommend you start with it. Lie on your side, behind your partner, and bend both of your knees. From this position, penetrate her slowly and listen to her feedback. Spooning allows for shallow penetration, unlike some styles such as doggie, and at the same time, the butt provides some cushioning.
2.     Classic woman on top (reverse missionary)
Sometimes, male dominant positions can be the cause of sexual pain. Some styles, such as the classic doggy and missionary, allow for deep penetration, giving the man all the power, resulting in more pain than pleasure. With the woman on top, it's more of a reverse missionary. Have your partner lie on his back and place yourself on them. Try to keep your legs bent and lean forward towards his face. This position limits the penetration to shallow and ensures that the clitoris is stimulated. Alternatively, placing hard cushions or pillows beneath your knees will reduce the rate of bounce, which reduces penetration intensity.
3.     Reverse cowgirl
Like the reversed missionary, the reverse cowgirl shifts the power dynamics in your favour. Here, you have control over the speed, penetration, and intensity behind the strokes. All you have to do is have him lie down and sit on his lap with your legs draped over his thighs but facing his feet. Place your feet on his shoulders and support your weight on his feet. From this position, grind on his dick at a pace that pleases you. Palmerston North escorts suggest having enough lube to ensure it runs all smooth.
4.     The face sit
This is another style that a lot of men tend to enjoy. Have him sit on a chair, preferably one without an armrest. Strap his thighs on the chair and tie his hands behind the backrest. If you please, you can proceed to blindfold him. Sit on his laps, facing him, with your hands resting on his shoulders. Proceed to grind and twist your waist in whichever way you desire. This way, you control all the penetration, including speed and depth.
The bottom line
The most important thing to remember is that sex positions don't work the same for everyone. If the ones above don't work for you, that's okay too. In such a case, try improvising the more comfortable classic missionary with some pillows to ensure you are comfortable. Lastly and most importantly, talk before the sex, and remember to consult an expert.
We love reading what you think. Please give us more suggestions of styles you think can work perfectly. Our comment box is open! 
No comments yet. Be the first to leave one.