Explore Shibari; The Japanese Rope Bondage
Share
Written on June 13th, 2022 by
Naughty Ads
Updated June 13th, 2022.
Viewed 175 times.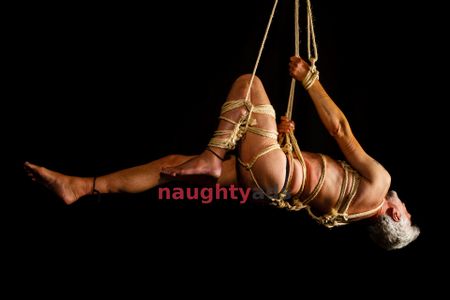 If you have a thing for rope bondage, you must have noticed how beautiful and elaborate it is. Better yet is Shibari, an ancient Japanese form of rope bondage. Whether you're familiar with Shibari or not, we're here to hold your hand through the basics of Japanese rope bondage, knots and other insights. Let's get into it!
So, what is Shibari?
Shibari is the erotic art of ancient Japanese rope bondage. The name Shibari translates to "to tie." Basically, it involves restraining or tying people with a rope. Shibari dates back to Hojojutsu; a martial art used to tie and transport prisoners using cords or ropes. Although Hojojutsu disappeared from the scene years later, the rope techniques somehow found themselves in the rope bondage scenes. These sensual and painful techniques are what is referred to as Shibari.
In its element, Shibari is strikingly beautiful, emotionally engaging and creatively challenging. Whether you're after relaxation, sex, BDSM, or a genuine connection, this form of bondage offers you many opportunities.
Why should I consider this?
If you've ever tried pinning or handcuffing your partner, you already know you have a thing for power dynamics. Shibari as a whole offers you a perfect chance to build a genuine connection and immense trust sensually and painfully.
Whether you enjoy the beauty of the ropes on your body or the connection and trust in your partner, Shibari is a perfect way of exploring the options. Besides, the ropes or cords give you a new opportunity to learn or introduce new sex styles and sensations.
Myths and misconceptions of Shibari
1.     Shibari is all about sex.
While the more extensive and essential part of Shibari is based on sex, this isn't always the case. Shibari is all about the experience. It's an exercise that gets extremely spiritually and psychologically intense. People practice it with different motives. While most aim for sex, intimacy, connection, and sensual elements are also crucial.
2.     Shibari is violent
Like any other form of BDSM, Shibari calls for understanding partners' limits. Christchurch escorts warn that there will be some pain, but it should be tolerable and pleasurable.
3.     Shibari is unsafe.
There will be risks in any type of bondage, more so rope bondage. However, Shibari isn't about force and pain, eliminating the safety fear factor. Again, understanding the breaking points of your partners will help you reap from Shibari.
Are there any benefits?
Shibari has a couple of benefits that include promoting mindfulness, awareness, communication, and the connection between partners. The benefits are explained in detail in our subsequent blogs.
The bottom line
In conclusion, getting into Shibari doesn't require top-secret tips. The most important thing to do is communicate with your partner and read more to mine crucial and helpful information.
What do you think about this Japanese rope art? Please let us know in our comment section box.
No comments yet. Be the first to leave one.