Workouts That Will Leave Clients Drooling Over You
Share
Written on May 9th, 2022 by
Naughty Ads
Updated May 9th, 2022.
Viewed 153 times.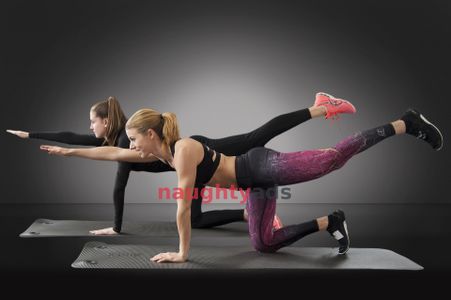 We all work out for different reasons. Aesthetic purposes, keeping anxiety and depression at bay or improving or strength are some reasons for hitting the gym. Being and escort or adult service provider is a physical and mental job so it's important to stay in shape for health but also doesn't hurt to have a toned, curved and sexy body. Of course bodies of all types and shapes are beautiful but if you're interested in developing a toned physique then ready on.
We can all agree that there are different workouts for different body objectives. For example, there are workouts for a bigger butt and others for more pronounced hips. Whatever you want to achieve needs a plan and a careful approach. In this short write up, we bring you simple DIY workouts that will leave your clients drooling over you.
1.     Squats
99% of men are obsessed with one part in women. The butt! While a big, toned butt works like magnetic sexual device, a shapeless one can sometimes be a turnoff. The best of them come in big and well-shaped sizes. To get there, squats are a great exercise. If available, grab a kettlebell or a dumbbell and start slow. Do about 10 reps of slow squats in about 3 sets per day. Squats work out the glutes, leading to a toned butt which is exactly what clients want to see.
2.     The bench press
A bench press leads to fine toned abs, shoulders and arms. How to go about this? Lie down flat on a bench and make sure that the back is straight. Grip the barbell firmly with arms shoulder-length apart with your feet firmly placed on the ground. At chest level, push the barbell slowly up and back down to your chest. 10 reps and 3 sets should be perfect.
3.     Leg lifts
Similar to squats, leg lifts work magic on the butt. To do this move, start on all fours and avoid your back arching. Lift the left leg as high as you can without bending it. Make sure you squeeze your glutes to work them out in the process. Repeat this for about 15 reps, and then the same on the right leg. 3 sets of this per day is a good number.
4.     Pelvic lifts
For a toned butt and body, pelvic lifts should be your go-to workouts. Firstly, they are easy to do, for all you need is a soft mat. Lie flat on your back (avoid any slight arching), with your knees bent and your arms by your side. Try to keep the legs as together as possible. Breath in, squeeze in your glutes and abs and slowly lift your waist. Hold for a few seconds and then release, returning your body to the initial position.
Final thoughts
Hurry up lunges, plank hops and bent over rows are more examples of workouts that will lead you to your dream body. However, escorts Auckland suggest that for the best results, you start slow on intensity and weights and slowly increase your tempo. That way, as your body tones up, you're bound to turn heads and create movements in other parts of your onlooker's body!
Which workouts for a sexy butt would you recommend? Let us know in the comment section below.
No comments yet. Be the first to leave one.