Tips for Giving an Unforgettable Massage
Share
Written on May 5th, 2022 by
Naughty Ads
Updated May 5th, 2022.
Viewed 234 times.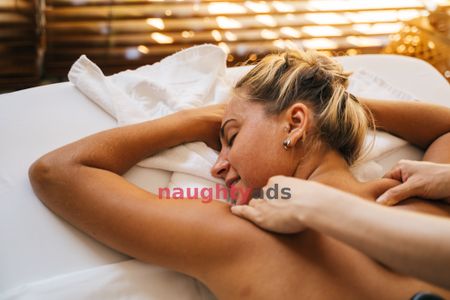 When it comes to intimacy, sex always gets the front seat, while things like foreplay and massages can often take a backseat. However, the surprising truth is that massages can be super intimate and sensual, sometimes even more than sex. Everybody can give a good massage, but it takes special touches and skills to give an unforgettable sensual massage. So, how do you do it like a pro? Here are a few tips for giving an unforgettable massage.
Before we get into it,
Why are massages important?
A lot of benefits of massages are well known. Firstly, they are a perfect solution to neck, back, and general muscle pains. They are also perfect alleviators of negative moods and arthritis symptoms. Generally, getting a deep and good massage is a mood and immune booster that can increase energy levels.
As a bonus, massages are a perfect entry to intense foreplay. Even if it's a non-sexual massage, that body contact is an ideal mood setter and creates a deeper connection which creates the chance to express deeper emotions.
So how do you give a perfect massage?
Set the scene and the mood
The atmosphere counts for the experience when it comes to massages. Here is how to set up the scene and atmosphere.
Equipment
Choose a firm quality bed and clean, soft linen, preferably white in colour. This is always the first step in relaxation.
Lighting
Good lighting is everything. Choose some candles to dimly light the room to create a warm and cosy atmosphere. In addition, remember to eliminate other bright lights such as blinking screens, LED lights, phones, or computers.
Fragrances
Scent has a strong effect on someone's mood. Essential oils or scented candles should do the trick. In addition, choose a lovely scented oil for the massage.
Music
Remember to play some soft sounds in the background. The keyword is soft and relaxing.
Groom yourself
How you dress or look plays a significant role in whether your client or partner will get satisfied. Ensure you take a proper shower to eliminate any body odours and have short and clean nails and hands. Lastly, make sure you have tidy hair.
Ask your partner what they like
Please don't assume that you already know what works for them. Pop questions about what parts they prefer or would not want to be touched. That way, you'll be in a better position to figure out how to satisfy them.
Start slow
From the feedback from the partner or client, you'll know the best techniques to start with. Most importantly, avoid losing that skin contact to keep the mood alive. Always have your hands lubricated with just enough oil, and use light to moderate pressure.
Slowly, focus on the erogenous zones such as the neck, face, inner thighs, buttocks, and, if desirable, the genitals.
Communicate
Communication is another important aspect that is generally ignored. Keep asking your client about how they feel or if there's anything you can do to make them feel better.
Lastly
The end to a massage will depend on the agreement with or the requirements of your client or partner. Altogether, the end should leave them happy and satisfied.
No comments yet. Be the first to leave one.