The Art of Teasing and Denial
Share
Written on April 27th, 2022 by
Naughty Ads
Updated April 27th, 2022.
Viewed 215 times.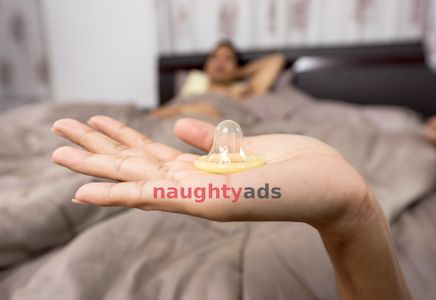 We all agree that the ending of every heated sexual moment should include an orgasm. Although that's the conventional truth, sometimes the withholding of an orgasm makes things even hotter. Through teasing and denial, it's possible to achieve this exhilarating feeling. Teasing and orgasm denial basically involves stimulating a partner to the edge of their climax and then denying them the thing they desire the most at that moment - the orgasm.  If you're new to this concept, you could be wondering how this works, how to approach it, and what methods to use. Here are a few tips and insights to help you along with this adventure.
How do you tease him?
Dress up for him.
Dressing up is one of the best ways of getting started with this. Get that tight dress or that see-through handkerchief-size skirt, and show him what he can look at (but not touch). To make it even better, strip in front of him slowly and in a sexy manner. Take things a notch higher by working a little lap dance as you take off of each piece of clothing. When he tries to advance his moves on you, that's where you draw the line! Don't let him touch you. He will go nuts.
Flash him.
A cheeky way of showing him the tip of the iceberg. Show an accidental nip slip after a shower, or come without your panties for dinner. When he sees it, he will crave you, but remember, he gets nothing.
Masturbate in front of him!
If the first 2 tips hasn't blown his mind already - this surely will! Pleasing yourself in front of him will have his cock throbbing and craving for some of your cake. But don't let him even touch you.
Start a fire
With this one, act romantic and start a heated kissing or oral sex session. Halfway through it, and once his pecker is veined, take off and act disinterested.
What can you use to tease him?
There are plenty of options when it comes to teasing gear. While most of them are bought, simple DIY improvisations work perfectly too. Here are a few items that will get the job done.
Blindfolds.
With blindfolds, the game becomes interesting because your partner can't tell where your hands will land next. It increases the anticipation of where you'll touch and what you'll touch them with. Blind touches are super arousing and might even drive them to their edge.
Vibrators
When it comes to teasing, vibrators take the front seat. The best thing about these is that they can go both ways. Vibrators quickly get partners turned on, thanks to the controllable vibrations. Remote-controlled vibrators are even more useful when it comes to roleplaying. Generally, these toys are perfect for driving your partner to the brink of their orgasm.
More tools for teasing a partner include chastity devices and bondage gear such as cuffs and restraints. However, these work best when combined with vibrators or whips.
The denial
Orgasm denial is as simple as it sounds but with amazing results. It's all about arousing your partner but not allowing them to cum. We also have ruined orgasms, where a partner, say a man, is stimulated till the brink of orgasm, and then the stimulation is withdrawn. He may still ejaculate, but it wouldn't feel the same as if the stimulation went all the way. However our favourite is the tease until they can take no more and then finally allow him to blow his load for a good 10 seconds. You could even try to break an orgasm-length record each time you tease and deny!
Teasing is all about caring for each other. The best way of finding out how to tease each other is reading blogs or books together, watching movies, and of course, communicating and being honest. In whatever you do, remember safety is paramount. 
What are your favourite ways to practice the art of teasing and denial?