Lingerie Recommendations for Plus Size Escorts
Share
Written on April 23rd, 2022 by
Naughty Ads
Updated April 23rd, 2022.
Viewed 174 times.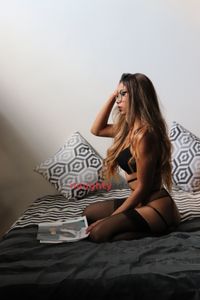 Lingerie has a way of bringing the best out of plus size women and bbw escorts. It brings out their bodacious boobs and magical curves in a unique way that clients love to see. Consequently, many clients are witnesses to their bookings become better when the escort greets them in some sexy lingerie. It's therefore fair to judge that lingerie is an integral part of an escort's wardrobe. However, there are a lot of factors to consider when buying those perfect pieces of lingerie, given the thousands of different designs. Here is a list of well-explained recommendations for plus size escorts to help you.
Be careful with size
Experts suggest that looking good in lingerie isn't about wearing one that's too small but wearing the correct size. Fetching lingerie becomes easy when you start with size as your priority, ignoring all the other factors. Small sizes tend to have your body "pouring out" in some places, leaving you very uncomfortable. On the same note, bigger sizes tend to make you look bigger than you are, bland and unpolished. Consider the numbers on the tag, and get a right-sized garment that you'll feel comfortable in.
Style is paramount
Style has to complement size. You know your body better, and if we're talking about looking sexy, you'll want to choose just what is suitable for it. Go for styles that perfectly bring out your favourite body parts. If you have a gorgeous bust, make sure that whatever design you choose focuses on that gift.
Generally, lingerie should make you gorgeous and confident, and that happens when you're sure he's noticing your favourite features.
Colour matters!
A lot of escorts forget about colour. Interestingly, colour has a significant effect on the results of a booking. Whatever you choose, try to match its colour to your personality, mood, and body shape. For example, dark colours are mysterious and dominating, while the lighter ones suggest innocence.
Generally, there is no rule as to which colour to wear as long it makes you feel comfortable and matches your mood and complexion. If you're feeling super-hot and experimental, you could go nuts with a deep red or animal print. Dark black sends messages of sophistication, while pink is awesome for slutty submissive plays. In a nutshell, make sure your choice captivates the eye!
Consider the fabric
The fabric also matters when it comes to lingerie. We highly recommend that you avoid lightweight clingy fabrics. Faux leather and spandex are perfect for plus sized escorts.
The bottom line
The goal here is to look sexy. Make sure you also choose a perfect pair of stilettos to complement that look. Lastly, check for customers' reviews and comments if you're buying online.
What else do you think counts? Leave your thoughts in the comments box below.
No comments yet. Be the first to leave one.