Guide to running a virtual sex chat session
Share
Written on April 9th, 2022 by
Naughty Ads
Updated April 9th, 2022.
Viewed 206 times.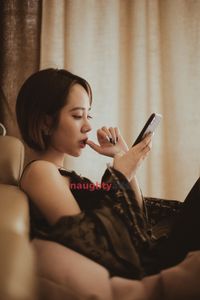 We all get bored from time to time, especially during the whole mess of this pandemic. The social plans we had organized for ourselves vanished before we knew it. It's even worse for long distances couples since unnecessary travel was cancelled or discouraged. On the same note, the need to have diverse income streams has forced some people to join the Australian sex industry. There are several ways of making money here, and at the same time beating the separation boredom, one of them being sexting.
Sexting can be defined as having virtual sex, using a phone, a computer, or any other device that can be used as a virtual chat room. The main idea behind sex chat sessions is to have a virtual sexual conversation between couples, or parties, where they describe their sexual urges and desires to each other. Sexting is fun and quite thrilling. However, many people don't know how to go about it, but we're here to help. Here is a guide to running a virtual sex chat session.
The basics
Sexting or virtual sex is an activity that is definitely worth your time, but we're pretty sure you're wondering how to start. First, there are several forms of virtual sex, which include sexting, phone sex, cybersex, camming, VR sex, and more. The other forms of virtual sex are discussed in our subsequent blogs. A lot of people tend to worry about not being too good at this, but if you incorporate the following tips, you'll be surprised how good you can be.
Use emojis
These are the building blocks of sex chats, all thanks to apps such as WhatsApp. Emojis come in handy when you're hornily putting sending out those nasty messages and adding emotion to written texts. For example, the eggplant emoji adds genuine emotion to the word "Dick." That way, the conversation feels more realistic.
Pictures are a must
Just like emojis, pictures are perfect supplements to nasty, sexy messages. Whether it's you sending your text buddy a few sexy pictures of you or them sending you their nude pictures, either works perfectly.
Try out chat rooms or websites.
For a first-timer, getting started with this can be so intimidating. Luckily, so many people are also on the same path as you. We recommend signing up for websites that have these sex chat avenues. Also, dating apps such as tinder are perfect options for finding a sex chat partner.
Are there any risks?
Besides digital privacy and security concerns, there are legal constraints regarding virtual sex chat and porn, especially in Australia. These legal regulations vary from state to state, and they primarily focus on the exposure of children to virtual sex and sexting. Generally, we advise that you avoid sharing too much personal information with your chatmate.
What do Australian sexting laws dictate?
Generally, Australian law dictates that it's illegal to use your phone or any other device to take, look at, keep, send or ask someone to send nude pictures or videos of anyone who is under the age of 18 or anyone who looks to be under the age of 18.
However, these rules and regulations change with states. For example, in NSW, the age of consent to sex is 16, but when it comes to sexting, 18 years applies. Generally, it's against the law to sex chat when either involved parties are below the age of 18. In such as case, it's considered child abuse. It's also illegal to look at naked or indecent photos or videos of a child or a young person, in this case, below 18 years.
Sexual harassment is also illegal, which means harassing people of any age. Harassment, in this case, could mean pestering someone to send you naked photos, videos, or nasty texts without them willing to.
If found on the wrong side of these regulations, you're considered a criminal. You risk a severe punishment such as jail terms or having your name on the sex offender register, meaning the authorities will always have your personal information such as your address and phone numbers.
Read more about the Australian laws and regulations on sexting here. This piece will also be helpful concerning the sexting law.
The bottom line is to always be on the safe side of the law, respect your chatmates and approach this with utmost sobriety. And of course, think before you send.
We'd love to hear your thoughts about this. Please leave a comment on our blog comments section.
No comments yet. Be the first to leave one.