How to monetise during a crisis
Share
Written on March 30th, 2022 by
Naughty Ads
Updated March 30th, 2022.
Viewed 184 times.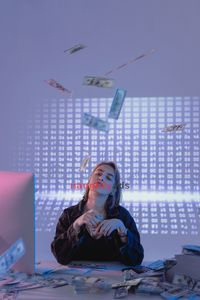 When a crisis hits, we're often left confused with seemingly nowhere to go. When it comes to sex work, a crisis like the one being experienced currently hits sex workers the hardest. However, you'd be surprised by the many ways you can bounce back from the setback and smile on your way to the bank. Although you can't make money from everything that surrounds you, there are smart ways you can monetise. Here, we bring you the best ways of making money during a crisis.
Monetise your social media accounts
Social media is probably the strongest tool vested in the hands of many sex workers. There is so much money-making potential from these fun sites. Surprisingly, you've been doing so much for free.
Imagine all that dope content you've been posting without even getting paid a single cent. We are here to change the narrative for you.
If you have Instagram and Twitter handles, you can make them private such that those horny buggers who want to chat with you in your DMs can pay for it. However, escorts in Wellington NZ warn that going down this path risks the closure of your account, especially if any wankers (the man types) report you. Altogether, it's worth the risk. In addition, posting enticing content consistently tends to land you endorsements that can come through for you financially.
Snapchat is also a perfect site to make some money from. As long as you post naughty content, horny perverts will flock to your DMs in their hundreds. Make your account private and charge people for access.
Post covid bookings
Someday, the crisis shall come to an end, and things shall resume to normal - at least that's what we hope. Take advantage of this, and give discounts to your clients for post-covid escorting sessions. This way, you'll entice a lot of them into booking your services. However, we advise that you be considerate with your changes, as the crisis has caught everyone by the neck.
Sexting or phone sex packages
We all agree that we have different tastes and preferences. A lot of people prefer their naughty side catered too in the form of phone sex or sexts. If you can play around with enticing words, this will work perfectly for you. One idea is to offer a naughty texting package and charge reasonably.
Zoom and skype dates
The crisis has made many people lonely in the confines of their homes. In most cases, such lonely souls turn to social media searching for companionship. Take advantage of this and offer them virtual emotional support, and of course, charge for it.
Final thoughts
You'd be surprised to find out that there are things you've been doing for free that would fetch you thousands a month (maybe even a week). With any of the highlighted tips, you're about to step out of the crisis better and happier. 
No comments yet. Be the first to leave one.