How to earn money online during a pandemic
Share
Written on March 28th, 2022 by
Naughty Ads
Updated March 28th, 2022.
Viewed 270 times.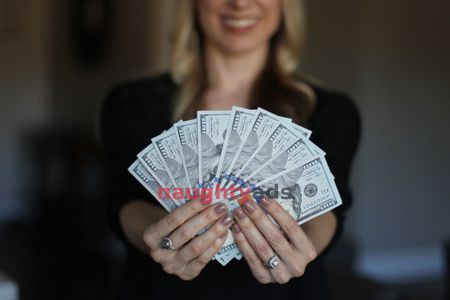 The covid-19 pandemic has taught us that life is certainly uncertain. With everybody getting scared of infections, mobility was compromised, especially in dense towns and cities. That said, the pandemics' harsh leash didn't leave behind sex workers and escorts. Night clubs, restaurants, hotels, and brothels were also closed, clients disappeared, and business hit rock bottom.
Perhaps you're one of the affected people. How do you bounce back from this? The following are some simple ideas on how you can earn money online during a pandemic.
Sell your photos
If you're up for showing off your body then you're sleeping on a gold mine. There is an endless demand for photos on websites and repositories of photos. If you believe you can produce high-quality images, you can upload them to databases where websites, companies, and magazines can buy them. That way, you'll be making money effortlessly without having to beat the hustle and bustle of busy streets or to meet clients. Some of the most famous websites to check out include Shutterstock and Pixels. However, note that the quality demand for these sites is sky-high, which means you've got to bring in top-notch content.
Sell things online
Due to the risks of getting infected during the pandemic, many people opted for online shopping. That said, you can take advantage of this and sell stuff that you're familiar with. Christchurch escorts suggest that sex workers and sex toys are a perfect blend. Create a simple eCommerce store, or market some sex toys through social media sites. You'll be surprised how much you can make.
Become a webcam model
Many people are taking a shift from porn videos to real life shows. This is, however, not to discredit porn videos, as they are still significant in the industry. Hundreds of websites host webcam models, who broadcast live shows to their subscribers in exchange for tips, gifts, and tokens. By joining any of these sites, you'll for sure make some decent money at the end of the day. One of the best sites to check out is Naughty Cams.
Write about sex
Surprisingly, there is still a massive demand for written content, and websites are calling for more creative writing talents. If you're a friend of the keyboard, you can take a break from the bedroom and write about this naughty game. You can write website reviews, sex toy reviews, website copies, or fictional stories based on personal experiences with clients. Given that you have prior experience in the industry, you can certainly handle this well and with many tales in memory banks, writers-block won't be an issue :)
There are a plethora of online opportunities for sex workers. Keep reading our blogs for more ideas and comment your own ideas to discuss below.
No comments yet. Be the first to leave one.