OLIVIA HAS LANDED
Share
Written on December 23rd, 2021 by
Olivia Reign
Updated December 23rd, 2021.
Viewed 415 times.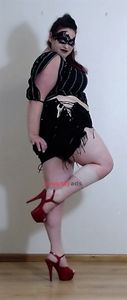 I'm sooo excited to be starting my NEW journey with escorting over the XXXmas break. I hope I get to meet all sorts of fabulous people and make their dreams come true. Longer bookings with role-plays and costumes are my favourite - I want all your fetish and kink fantasies to become reality starring ME and YOU. Let's go out somewhere together and make everyone in the room JEALOUS of what we have together, PDAs and naughty giggles abound. The longer we make ourselves wait the more EXPLOSIVE the private time will be...
It's only been a few minutes, I haven't even finished writing this diary and I already have some answers to my new ad... will YOU be the first cock I suck? Coz let me tell you I am HUNGRY for some sausage 😈😈😈
No comments yet. Be the first to leave one.