How much do sex workers make
Share
Written on January 14th, 2022 by
Naughty Ads
Updated January 14th, 2022.
Viewed 287 times.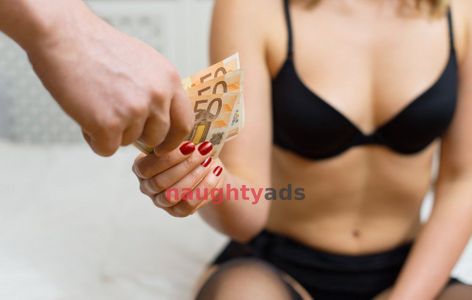 Although sex work comprises many different aspects and forms, we can term it as selling sex. Sex workers exchange sexual encounters with things that have monetary value or money itself. In most cases, money is used but trades for services and alternative payment methods like crypto coin is also a possibility. Besides sex itself, sex work includes erotic massages, cam modelling, stripping, and sexting. There is no definite answer to how much sex workers make since factors aren't constant.
Who are sex workers?
Sex workers are not all built the same. With that, we mean they offer different sexual and consensual services that are exchanged with money. On the same note, some sex workers work independently, while some workers are managed by brothels and escorts agencies. All these factors affect how much a sex worker can make in a given period.
Here is a brief list of the different types of sex workers;
Erotic masseuses
Porn stars
Strippers
Virtual sex models
Phone sex operators
Cam models
Escorts
Adult Content Creators
All these categories make different amounts of money, and the working conditions are entirely different. Here is a simple breakdown of how much each group makes.
The amount a sex worker can make is determined by their work, the rates they've set, and whether they are employed or work independently.
In addition, the rates per hour, rate per appointment, geographical location, and tips all determine how much a Escort can make. In terms of location, escorts in the urban centres tend to make more than those in smaller and rural towns.
Sex workers working under escort agencies have to give a cut of what they receive to the agency in return for a guaranteed flow of sex work and protection. On the other hand, independent escorts do not have to pay anyone from what they earn, although it comes with administrative burden of self-management.
How much do strippers make?
Stripping income dramatically varies depending on day and location. In one night, strippers can make as little as $50, while in another, they can make as much as $3000. Location and time of the year significantly affect strippers' income. However, established strippers can make as much as $250,000 in a year and some even more.
Escorts
As stated, escorts can work either independently or under an agency. Independent escorts charge clients depending on the negotiated price. In most cases, this varies widely as well. On average, an escort can make anywhere from $500 a month to $50,000 - it varies widely.
When it comes to escorts working under an agency, their income depends on the agency's cut. If the company takes 30% for every call, and say the hourly rate is $300, then the sex worker will make around $210 per hour.
Pornstars
Surprisingly, pornstars make quite a little, especially the newbies. In some cases, it might be as little as $300 per scene. However, the experienced and most followed stars can make as much as $2000 per scene. These days, porn acting is more so a marketing strategy for private or agency Escort work.
In conclusion
Generally, the varying conditions of the industry make it challenging to quantify the average earnings of a sex worker. However, working in larger, capital cities no doubt earns all types of sex work more money per hour. In the sex work game success is defined by the same factors like in all walks of life - the most important being - hard work.
No comments yet. Be the first to leave one.