Rope bondage sex positions bucket list
Share
Written on November 15th, 2021 by
Naughty Ads
Updated November 15th, 2021.
Viewed 419 times.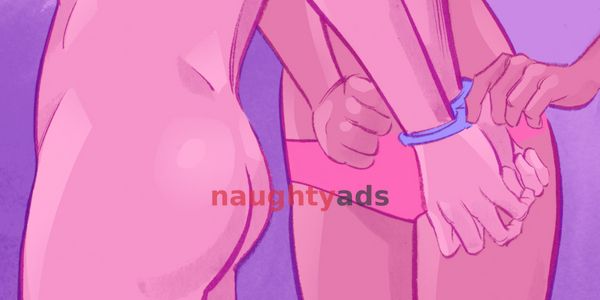 Everything about tying your partner and dominating them is super attractive and a pure turn-on. It shifts the power dynamic to your side, provokes emotions, makes things fun, and significantly better and more intense orgasms. If you've been yearning to tie them down, congratulations from us! You've unlocked a new level of your sex horizons. We assure you that you're bound to experience an unfathomable pleasure. However, the question is, how do you make use of ropes to get the best out of those moments? In this article are the best rope bondage sex positions to try out. We hope they bring the best out of your bedroom sessions.
The box tie
This is one of the best rope bondage styles that is easy to execute. The simplest way of trying this is using two ropes, about 30 feet each. Tie your partner's wrists together behind the back, and use the remaining length of rope to wrap it around the body and arms. The first part, below the breasts, then over them, and connect the ropes between the arm and body. This position gives you full access to nipples and genitals and is also magical for styles such as anal and facedown doggy.
Bondage doggy styles.
If you're a fan of doggy style, you're going to love doing this to your partner. Escorts in Auckland recommend doing this on a bed since it requires some comfort on the knees. You need to position your partner with their butt up in the air and chest on the floor or bed. Once you have them in that position, pull their arms back and tie them to their ankles. Make sure that the grip is not too tight to avoid bruising. In this position, oral stimulation, as well as vaginal and anal penetration, will be perfect.
The crab
The crab is a perfect style for doggy and oral sex lovers. You simply have to tie your partner's thighs and ankle together and repeat the same on the other leg. To make it even hotter, tie their hands to the thighs. Experts advise using an easy release tow column tie. In this position, there's is easy access to all the private bits, making oral sex and penetration easy and enjoyable. In addition, you can easily switch from the crab to a bondage doggy.
The hogtie
This position is famous in some of the nasty movies on our screens. It's not that great at penetration, but for oral sex, it delivers the unexpected. Have your partner lie on their back and tie their wrists behind their back, followed by the ankles. Lastly, connect these two together to give it a BDSM feel. Remember, this position can be pretty tiring, and experts suggest having a quick untie plan.
The bottom line
Spread eagle, reverse chair, sexy spoon, and the yogi are more examples of kinky styles to try out. The most important thing to keep in mind is consent and safety. Good luck from us!
No comments yet. Be the first to leave one.