5 surprising reasons why you're not getting your orgasm
Share
Written on November 22nd, 2021 by
Naughty Ads
Updated November 22nd, 2021.
Viewed 321 times.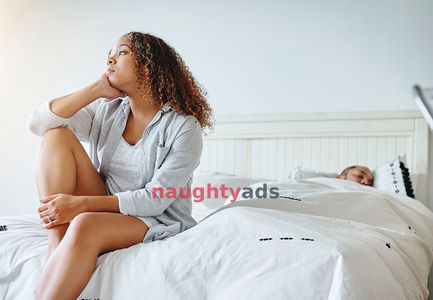 Sex makes no sense if it doesn't end up in an explosive orgasm. To most women, climaxing is close to rocket science. A female orgasm is quite often compared to the Bermuda triangle- a complete mystery. While we agree every woman has been created and abled differently, a shattering orgasm is your right, and if you've not been getting it, we'll tell you why. Here are 5 surprising reasons why you've been leaving that bed empty-handed- with no orgasm.
1.     You're too anxious
Mental wellbeing contributes to the ability to climax. Having depression or anxiety leads to intrusive thoughts, which make orgasms a nightmare. According to escorts in Melbourne, half the times they couldn't reach orgasm resulted from depression and anxiety. If you think your mental well-being has been the issue, consider seeking therapy or seeing a gynecologist. If possible, seek these services together with your partner.
2.     You're taking too much alcohol
Surprisingly, alcohol intake affects blood flow to the clitoris, which is a crucial part of sex for most ladies. In addition, smoking has more or less the same effect. So, if you've been struggling with an orgasm, you need to check on your bottles.
3.     You're not confident about your body.
If you don't feel good about yourself, it's going to be a nightmare getting to your big O. We understand that everyone has their own insecurities, but hey, you got to stop focusing on whether he notices your flaws. Take some time to overcome your insecurities and love yourself enough. Please find a way of getting such thoughts out of your head, such as writing them down or meditating.
4.     You have communication issues
One of the most critical aspects of the bedroom is communication. Letting your partner know what you want from the bedroom comes in handy to getting to climax. If you feel like you want him to do something, you should feel free to tell them. In addition, if there is something you don't like, it's vital to let him know. Your partner is not an angel. Unless you speak your mind, you'll forever live in a world of ruined orgasms.
5.     You're not drinking enough water
Quite surprisingly, water dramatically affects your orgasms. Research suggests that the arousal tissue in women needs to slide and glide, and that can only happen if there is enough fluid. Drinking water during the day saves you from issues such as fatigue and constipation, which makes sure you're in the optimum condition for an orgasm. If you're planning a romp for the night, several glasses of water will make sure you're hydrated, and that way, you'll be in for a great O.
The bottom line
The trick to getting an orgasm is by having everything in order. First, deal with your traumas. Secondly, watch your health and lastly, communicate. Experts suggest that you should focus on the moment and avoid thinking about the results.
No comments yet. Be the first to leave one.