Top 4 tips to having the perfect threesome
Share
Written on October 7th, 2021 by
Naughty Ads
Updated October 7th, 2021.
Viewed 365 times.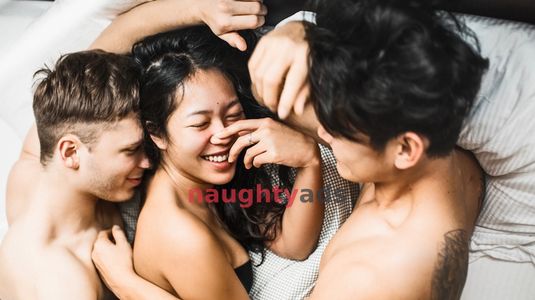 Threesomes hold a special seat in the world of sexual imagination and cultural landscape. If you don't know what a threesome is, you'd be surprised to find out that the definition is looser than you might think-sex between three people. A threesome can involve people of any combination of genders, and a point to note is that not everyone involved in a threesome needs to be penetrated or to penetrate. The cold and sad truth is that having a fantastic and thrilling threesome does not come easy. Think about the hassle of finding positions, perfect partners, and how to ask them politely. However, with our four tips, you will increase your chances of getting a perfect threesome. Ready?
1.     Open communication
Communication feels like a simple tip, but it's often left out when it comes to matters of intimacy. Do you ever wonder why most relationships or even one-night stands end up in disappointment? Poor communication it is! Before you indulge in a threesome, talk about everything with your partner and in the most authentic way possible. Talk about your needs, fantasies, desires, and even your fears.
When sourcing for the third partner, escorts in Shepparton firmly insist on getting a great communicator and an escort that is open in all aspects. That way, no one is left in the dark before, during, and after the threesome.
2.     Manifest your perfect third partner
The hardest part of navigating through a threesome is probably finding a perfect third partner. Our editorial team has met several couples who really want a threesome, but they have no clue who to ask. Take a seat as a couple, and pen down everything you want in your third party. Penning things down will make it clear as to who exactly you both want and wish to attract or invite into your lives.
3.     Set extensive boundaries, and have consent
Truth be told, even the freakiest people have some sexual acts that scare them or disgust them. Please note that boundaries can be either emotional or sexual. Before you three commit, be honest and openly discuss your sexual and emotional boundaries.
On the topic of consent, it's basically respecting what the other person considers a "yes" or "no."
When you discuss all these factors, the experience will be a lot safer and more fun. An example of a boundary someone might have is speaking about whether you're comfortable with having your butt touched or penetrated.
4.     Search for a partner extensively and carefully
If you don't have anyone for your threesome, we suggest you first refer to tip number one. After that, make sure both of you are involved in the search. There are so many places to find a perfect date for a threesome. They include clubs, parties, referrals from friends, sex parties a Shepparton Escort (or wherever your location might be) on Naughty Ads!
Whichever way you choose, make sure the two of you are involved in the texts, calls, and of course, the initial meetup.
Reminder!
Never forgot about protection. It would help if you discussed this as a team. Remember you're inviting a stranger into your sexual world and therefore safety is paramount.
Lastly, the reality is there is no guarantee that the threesome will run smoothly. It might be a wreck, and it might just be the best experience ever - but you won't know until you try it. Get out there and have fun! Now!
No comments yet. Be the first to leave one.