Surprising benefits of reading erotica
Share
Written on September 19th, 2021 by
Naughty Ads
Updated September 18th, 2021.
Viewed 490 times.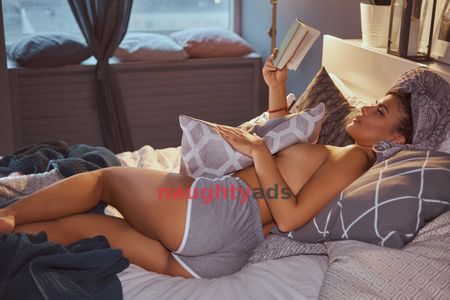 Word porn, or erotic literature as some may call it, has drawn a lot of attention, raising thousands of discussions, many of which are negative. For a long time, erotica has been seen as taboo, and most people have been blind to the many benefits it can possibly lead to. Firstly, erotica can be defined as a type of art that is meant to cause sexual arousal. It is similar to pornography, the only difference being that erotica is seen to have "a sexual aspect." While there are so many myths about erotica, there are equally many (and some surprising) benefits related to reading erotica and are discussed in this article.
It's a perfect getaway from routine
Erotica is perfectly crafted, with vivid descriptions, steamy details, enchanting imagery, and hot sex scenes. That given, it is super easy to get swept by the details and get carried away. That way, you get absorbed into the scenes, and you effortlessly forget about that bad day you just had or those dishes waiting for you in the sink.
Erotica is a pure turn on
Let's cut to the chase and agree that erotica is super hot. Reading about that action gets you into high spirits, thinking about sex. Reading into the details makes you want someone so bad. Even after you get aroused, the thought of the content boosts your libido both for the short and long term. With erotica, you keep coming back for more.
Erotica is relaxing and makes sex more fun
According to the experienced Nowra Escorts, one of the crucial determinants of how good or bad sex will be is the state of mind. They further state that some of the worst experiences with their clients are directly related to stress. That said, one of the best ways of relieving daily stress is indulging in a good read-erotica.
According to a study by ABC life, reading lowers blood pressure, which reduces stress immensely, and eventually, is a key to boosting your sex drive.
Better orgasms
With a relaxed mind, you get turned on in the right way. Chances are, in one way or another, you'll end up having several big Os. Orgasms feel heavenly, and the benefit is that you get to enjoy them with your partner.
Reading boosts creativity
The best way of fighting boring and repetitive sex in the bedroom is digging into some erotica. Although the stories are fictional, they give you some intriguing ideas which, when you try out, work magic in that room.
In conclusion
The benefits of reading erotic content are endless. Better sleep, freedom of sexual expression, and sexual safety are some more benefits of reading erotica. Don't feel held back if you've been dreaming of taking your game to the next level. Jump right into that shop and grab a good read. You're going to love the secret freak you'll turn into.
No comments yet. Be the first to leave one.