Sitting on his face- What you need to know.
Share
Written on September 11th, 2021 by
Naughty Ads
Updated September 10th, 2021.
Viewed 474 times.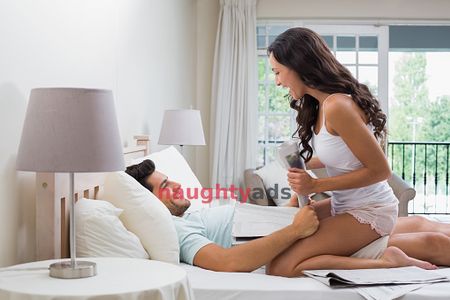 The fact that we were all created differently explains the diverse wild sexual fantasies that we possess. While some men prefer going all the way in (If you know what I mean), some could die to have a sexy mamma sit on their faces. Sitting on a man's face and using that as a selfish way of pleasing yourself is such a beautiful scene, and believe it or not, it's a trendy genre of porn if you didn't know. Sitting on his face could be an immensely pleasing act, both mentally and physically, and if done perfectly, you can both get off. In this five-minute read, we explore the details of sitting on his face. We hope you enjoy it 😊
So, what's so great about all this?
More often than not, face sitting is compared to the 69 position, where you two eat each other out at the same time. When it comes to face sitting, he eats you out, which is a super elating feeling, and the focus remains on you, unlike the 69 position, where concentrating on the pleasure is challenging since you're also trying to please your partner. As we mentioned initially, sitting on his face is like using him for pleasure in the most selfish way.
Having him look up to you feels incredibly empowering, which works even better in role-playing. Lakes Entrance escorts suggest that some men even prefer their faces being sat on, and having it made to appear like a fetish. Remember, the most exciting ways of practicing sex are those that allow you two to discover your fantasies, and face sitting is definitely one of those.
Some ask, what if I squish him?
This is worrisome to most women, as they tend to wonder if they'll suffocate their partner to death. The thing is, you're supposed to find a suitable position that feels comfortable for the two of you. A position that allows him to breathe perfectly, and at the same time, will enable you to feel super powerful and dominant.
How do I convince him to do this?
If sitting on his face has been your fantasy, and you're wondering how to convince him, then worry no more since it's not rocket science. If he goes down on you regularly or has mentioned the topic in question in previous conversations, you just need to bring it up and ask for the favour. Sex is all about communication, and you should never feel shy to bring it up.
Which are the best positions?
The position doesn't really matter as long as you two are perfectly comfortable. However, try on the bed, where he lies on his back, and you lower your butt slowly and directly to his face. It works perfectly. If that doesn't fancy you, try doing the inverse face-to-butt, where you lie on the bed and have him lie on his belly behind, pressing his face against your butt. Either way, you're going to love it.
In closing
The times when the bedroom was a victim of boring and repetitive sex are long gone. With face sitting, you're bound to enjoy better and more intense moments of intimacy, and possibly, orgasms. The most important thing to remember is to practice consent and hygiene.
No comments yet. Be the first to leave one.