Choosing gifts for your escort: A how-to guide
Share
Written on September 5th, 2021 by
Naughty Ads
Updated September 4th, 2021.
Viewed 482 times.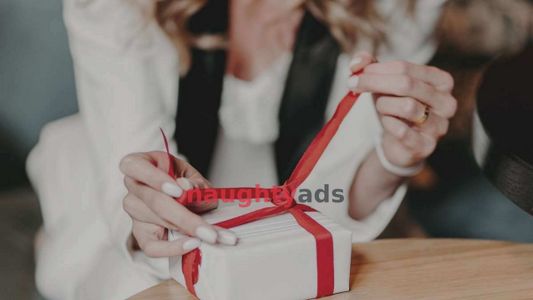 Quite frankly, escorts don't get the level of appreciation they deserve. Imagine having someone who likes you for who you are, without judging you whatsoever. Although you pay escorts in Hamilton for all the time and services they offer to you, it wouldn't hurt if you went ahead and extended a warm hand of gratitude as a sign of appreciation. It is a sign of courtesy, and in addition, it makes the woman even more comfortable around you. Escorts don't expect any gifts from their clients, neither is it an obligation for you to gift them. If you're considering going down this path, we are here to talk about some tips on choosing the best gifts for your escort.
1.     Consider asking first.
We are all created differently, and we come from different backgrounds. Some people don't just accept gifts, others can't take them to their homes, and others are allergic to some stuff. You could bring her some flowers, which is a brilliant idea, but what if she is allergic to their scent? There is no harm or shame in asking, "I'd love to bring you a gift for our next date. Is that okay with you?"
We deeply understand that asking first ruins the surprise, but what would you rather have? A spoiled surprise or disappointment?
2.     Listen keenly.
If you still insist on surprising her, we suggest taking your time to learn about her likes and dislikes. During dates and bookings, take a keen interest in her words, and understand them. That way, you increase the chances of getting it right when choosing a gift for her. If possible, select the things you two have a thing for.
3.     Could you keep it simple?
Escorts are some of the people with the purest hearts out here. The tiniest of things make them super happy. If you're unsure what to get, go for small and inexpensive gifts, and you shall never get it wrong. Other flexible gifts such as tickets to spas work the magic as well.
4.     If you go all out expensive, include the receipt.
We understand that revealing the price of a gift is kind of against courtesy, but when it comes to pleasing her, it's wise to allow her to make preferences, just in case your choice isn't of their liking. By including the receipt, you make sure that she can go back to the store and swap the gift to end up with the version that makes her happy and satisfied.
5.     "Personal" works wonders too.
We choose the extravagant option in most cases, forgetting how much a simple gift such as a personalized note could mean to someone. With such, you can never go wrong.
The bottom line
Generally, gifting an escort goes back to the connection between you two. Focus on creating a great connection so that you can learn about her likes and dislikes. 
No comments yet. Be the first to leave one.