Sex during pregnancy benefits and downsides
Share
Written on August 1st, 2021 by
Naughty Ads
Updated July 31st, 2021.
Viewed 476 times.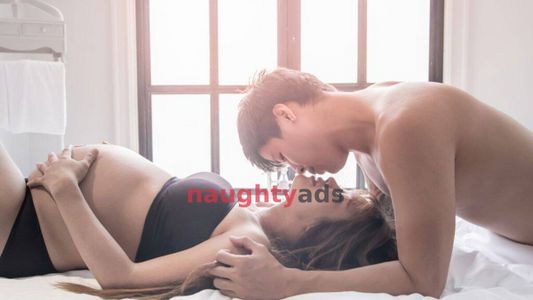 So here you are, heavily paged, probably in your third trimester. Has your sex life come to a complete standstill? Have you put a pause on this beautiful game? If you have taken your sex life into a freeze and wondering whether it's time to thaw it out, we have your answer. Sex during pregnancy can trigger mixed reactions, as most women argue that it's not safe for their unborn child. In this detailed write-up, we dig into the benefits and risks involved in having sex during pregnancy. We have also gone further to explain when to avoid sex and why.
Is sex during pregnancy safe?
The truth is, sex during pregnancy is very safe unless there are some complications involved. The unborn child is adequately shielded by the uterus muscles, in addition to a surround of the amniotic fluid. Some may argue that penetration and orgasms might induce early labour, but all this is false since the mucus plug that develops around the cervix offers enough protection.
What are the benefits of sex during pregnancy?
Sex during your trimester comes with some sweet perks. We have explained a few as follows;
1.     It brings a better bond with your partner.
Pregnancies are heavily linked to endless emotions as many women tend to get attached and focused on their growing child. In most cases, it makes the partner feel like an outsider. One of the best ways of keeping this bond strong is by getting intimate with each other.
2.     Sex is a perfect workout
 One of the most important things during pregnancy is exercise. While sometimes it's almost impossible to get time for a morning run or some weights, sex comes in handy as a perfect substitute. One good intimate romp can burn as many as 50 calories in addition to lowering blood pressure. Reduced blood pressure saves you from a lot of pregnancy complications.
3.     It is a self-confidence booster.
With the changes in the body and hormonal imbalances, women tend to feel differently about their bodies. Some feel like they are losing their physical man magnet. Regular sex with their partners will make them feel wanted, which boosts self-confidence.
Improved and intensified orgasms, better moods, improved sleep and eased labour pains are more benefits of sex during pregnancy.
Are there any risks involved?
There are no risks involved in sex during pregnancy as long as there are no complications. However, there are some situations where it's advisable to avoid sex during pregnancy. So, when is it not safe to get laid? Here are some answers.
When you experience vaginal bleeding
If you don't know your partner's history to avoid STDs
If you have ruptured membranes
If your inner voice says no!
Last thought
Generally, sex during pregnancy is absolutely safe. The most important thing to consider is the style. Escorts in Wollongong suggest going with styles that won't put pressure on the abdomen. They recommend traditional styles as well as lubricants.
No comments yet. Be the first to leave one.