Slippery When Wet: Best Shower Sex Positions With HUSH Escorts
Share
Written on July 6th, 2021 by
Madison Ashley
Updated July 6th, 2021.
Viewed 562 times.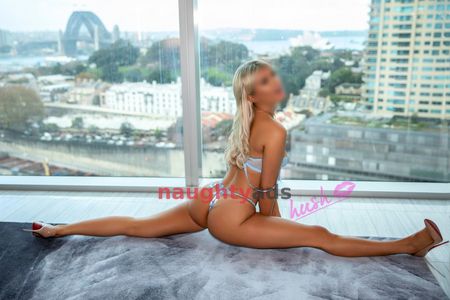 Slippery When Wet: Best Shower Sex Positions
In our imaginations (and in the movies) shower sex is the stuff of fantasies. Afterall, what's hotter than making out and having sex in the shower with someone who's naked and slippery with soap, as water cascading around you. Shower sex is inherently hot because it comes with a sense of urgency.
But if you've ever had shower sex, you've probably found that the reality didn't live up to your steamy fantasies (and it probably just felt downright dangerous). However, shower sex can be every bit as incredible in real life, you just need to bear a few things in mind.
Here are five of our tips for having better shower sex with our gorgeous escorts from our escort agency.
Shower sex doesn't have to be about penetration
Depending on the size of the shower, sometimes penetration can be impossible, so don't force it. Shower sex is better for foreplay, anyway. It lends itself to hot oral sex and is great for touching, teasing, kissing, rubbing and exploring each others bodies.
Pick your positions wisely
Avoid positions that require either parties to balance in any way – this is a slippery disaster waiting to happen. The Standing Doggy is your friend when it comes to shower sex, and should be your go-to. To ensure you both stay stable, have her put her hands against the shower wall and bend towards it at a 45-degree angle, keeping both feet on the ground. You can then penetrate her from behind, while reaching around to stimulate her breasts or clitoris.
Use sex toys designed for shower sex
If you're really dedicated to having sex in the shower, invest in some shower sex toys.
Yes, there are companies out there who make sex toys designed to help you have more comfortable sex in the shower. For example, Sex In The Shower makes a product called the Single Locking Suction Handle, which are basically handles attached to strong suction cups that cling to the shower walls so you can achieve more adventurous positions in the shower or bath.
There are also thousands of waterproof sex toys out there – from waterproof vibrators to cockrings - that you could bring into the shower to add some excitement to your play.
Be wary of soap
Covering your partner is soapy suds might seem sexy – until you get soap where it shouldn't go. Try not to get soap in each other's eyes, mouths or urethra – especially if it's a scented bodywash. Never use soap as lube – ensure you've got a lube in your shower caddy ready to go.
Use silicone-based lube
Which brings us to our next point… water isn't a substitute for lube. If you've ever had sex in a pool or a spa, you'll already know that water can be quite drying. Waterbased lube will just wash away, whereas a silicone-based lube has a thicker consistency and tends to be longer-lasting. Avoid oil-based lubes as they tend to degrade latex condoms. You might find you have to reapply the lube more than you normally would, but it will ensure things stay slippery and comfortable for all.
Ready to get steamy? Give us a call to arrange a booking with a high class Sydney escort today
No comments yet. Be the first to leave one.