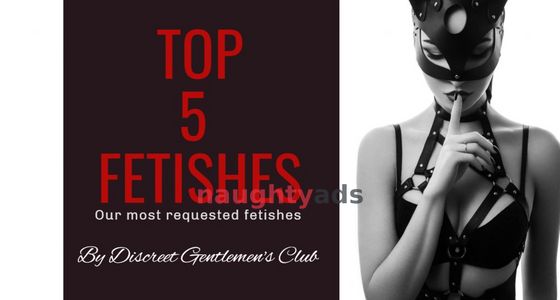 Ever wondered what kinds of requests we receive on a regular basis?
Well wonder no more, as we list our top 5 most requested fetishes… (the list may surprise you!)
(A.K.A. Watersports – no, not like waterskiing and wakeboarding)
Watersports / Golden Showers / Piss Play – participants derive pleasure from sexual activities involving urine. By urinating on their partner or vice versa or having urine involved in some way during their sexual play for instance. Despite popular sentiments, golden showers are not particularly unhygienic or dangerous but add an extra naughty element to your lovemaking.
Foot fetishists can derive pleasure in a variety of ways. They may enjoy watching ladies in high heels, stockings or like playing with and touching feet. Special requests can be made in regards to footwear and socks/stockings (subject to availability) to fulfil your innermost fantasies. Some of our ladies specialise and are skilled in foot-jobs (think of a handjob but..with feet) – just speak to us about your interests and we can recommend the best suited lady for your requirements.
Want to be tied up by a gorgeous woman and taken advantage of? Explore new heights of pleasure while at the mercy of a gorgeous Discreet lady.
Please note: at this stage only light bondage is offered by our ladies. For more advanced bondage services, please stay tuned for when our BDSM dungeon is fully operational. Fully trained Dominatrix services will also be available alongside the facilities.
A very popular request that we receive enquiries about is our pegging services. Often men find it difficult to express in their personal life their desire to explore this amazing play and so turn to professionals to be able to try this new world of pleasure in a safe and unjudgmental environment. The added bonus of trying pegging with an experienced Discreet lady is that she can tailor it to you and ensure maximum satisfaction.
Discreet Gentlemen's Club is known for it's gorgeous women, wild parties and even wilder threesomes. At the top of the list is a Lesbian/Bi-Sexual fantasy (often involving roleplay), imagine walking in on two stunning women in the middle of love-making and having them beckon you to join them? The script of many pornographic films coming to life right in front of your very eyes, where the guest of honour is you! No wonder this is the #1 kink request currently..
Explore Your Fantasy with Discreet…
With our new venue well on the way to being ready for use with facilities better equipped to suit different fetishes, and with the added bonus of having the ability to book an experienced dominatrix, the list of top fetishes may well change in the upcoming months. Send us an enquiry to see if we can cater to your needs or if you would like to try some of the fetishes listed above..
Enjoy reading our blog? CLICK HERE FOR MORE DELICIOUS DISCREET BLOG POSTS
No comments yet. Be the first to leave one.