PEGGING & P-SPOT ORGASMS FOR BEGINNERS
Share
Written on May 30th, 2021 by
Anna G
Updated June 1st, 2021.
Viewed 460 times.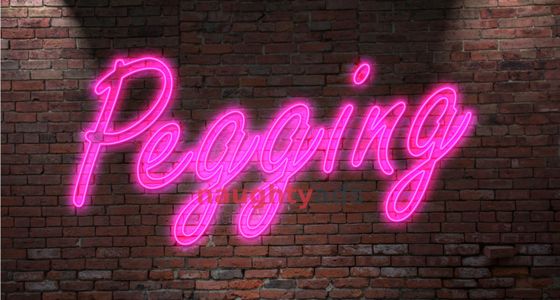 Always turned on by the idea of being pegged but don't know how to actually fulfil your fantasy? Read on for a quick guide about getting into pegging and how to have the ultimate P-spot orgasm.
What is pegging?
What people mean when they refer to pegging in the sexual context is when a woman uses a strap-on to provide anal stimulation (through penetration) to a male partner. Many men find this extraordinarily pleasurable due to the stimulation of a zone called the P-spot.
What is the P-spot?
The P-spot is simply a spot within the rectum which when contact or pressure is applied, stimulation is delivered to the prostate (hence the name). Like the G-spot with women, P-spot stimulation can result in intense pleasure and orgasm.
What is a prostate massage?
It is an internal massage that stimulates the prostate, this can be through the use of a toy or by finger.
Prostate massages can be done in conjunction with other stimulation (i.e. handjob or oral sex) to increase the intensity of sensations.
Is it only for homosexual men?
Absolutely not! Enjoying prostate stimulation is not exclusive to gay men as anyone that has a prostate can enjoy exploring this erogenous zone.
Equating prostate stimulation to homosexuality is the equivalent of equating fingering to lesbians – it's a ridiculous connection. Sexual activities and enjoyment are not exclusive to any one group.
Try Pegging / Prostate Massage / P-spot Orgasms at Discreet Gentlemen's Club!
What Now?
So you've decided you'd like to try pegging but not sure what to do next. Start by giving us a call, we can advise you which of our ladies perform this service and provide recommendations depending on your experience and the type of lady/service you are after.
Picking the Right Lady
For beginners it is always best to select a lady who is experienced in anal play and can guide you through the process and help warm you up prior to actual play.
Warm up and correct techniques are required especially for first timers to reduce the risk of discomfort and to maximise pleasure. Our experienced ladies will guide you through this process and ensure your comfort and enjoyment through the entire booking.
Please note that there is additional charges for these services, just speak to the ladies prior to the booking so that they may prepare equipment and toys for the service.
FOR RECOMMENDATIONS FOR LADIES SPECIALISING IN PEGGING, HEAD TO OUR ORIGINAL BLOG POST ON THE DISCREET WEBSITE
No comments yet. Be the first to leave one.