Ménage à trois - A guide to adding a third in the bedroom
Share
Written on April 25th, 2021 by
Anna G
Updated April 26th, 2021.
Viewed 632 times.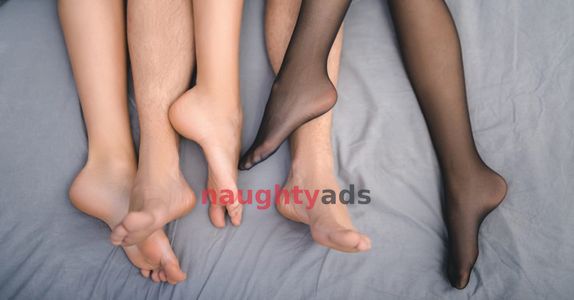 "COUPLES WELCOME" by Discreet Gentlemen's Club
Planning a threesome with your partner can be an especially daunting task, particularly for first timers.
How will you find someone? Will they suit you both? What if someone becomes jealous? What if they get attached?
It is important to have open and honest communication between you and your partner as well as the person joining you.
Issues arise when reality does not meet expectation, which can often be avoided by good communication.
Couples partake in threesomes for a variety of reasons - some may only be just exploring bisexuality, others to spice up the bedroom, some to fulfil a fantasy, some to please a partner and some just because...
Whatever your reason, this short guide will hopefully help give you more insight into inviting a third into the bedroom.
Work Out The 'Experience' You Are After"
Some couples make the mistake of picking a lady before they've even decided what each of their own needs and wants are.
Without prior discussion, adding a third person and no cohesive vision can end up in disappointment or disaster.
Firstly, you need to know what each person's desired level of participation is and with whom - is someone actively involved or just watching? is the third person focusing solely on one person or both?
What acts are allowed and what is taboo?
Set boundaries that everyone is comfortable with and discuss your expectations. Be realistic.
Once you are both on the same page you are then able to better communicate this with someone joining you. And now you're ready to decide which lady you'd like to join you.
Meet Someone Personally Or Hire A Professional?
So you're thinking about whether or not to either meet someone in your personal life to join you in your sexual escapades or to hire a professional.
The truth is that there are pros and cons to both. 
Meeting someone personally: there is always the risk of attachments forming, lines being blurred and having to deal with another person's needs and expectations in the mix also.
That's not to say you can't find a mutually fulfilling addition, it is possible to have someone that's on the same page with what you want. The added bonus is that as it's a more casual set-up, there's opportunity to build more of a rapport with the person and explore what they are after as well.
Hiring a professional: although the ladies are wonderful professionals and they are committed to making sure you have a great time, they are professionals. It is highly unlikely a lady will be a part of your personal life or form an attachment after a booking. She is dedicated to making your time together special and fulfilling to the both of you, but only during your time together.
No risk of attachment could be exactly what you are after however.
The positives of hiring a professional is also that you can explain exactly what you are after and what your expectations are without feeling awkward or having to navigate another persons sexual needs. An added bonus for newbies is that an experienced lady can give advice and provide guidance during the booking should you be a bit nervous as to how to approach it.
There is no right or wrong answer as to which you should choose, just remember to be open and honest and to have fun!
Making A Couples Booking
So you've decided to make a couples booking at
Discreet
. 
Give our friendly reception staff a call to discuss which ladies are available to choose from. Availability of ladies that offer couples services does vary day to day but our reception staff can advise you of what options you will have.
For first-timers and inexperienced couples, it is recommended that you meet the eligible ladies in-house, there you will meet each lady individually and are able to ask questions, discuss what kind of service you are after and explain what your expectations are.
Outcalls available for couples also
Advice For First Timers
• Pick the lady together
- Surprises are not always welcome ones! Even if previously discussed, it's best to come to a decision together as to who you both wish to join you in the bedroom.
• Be on the same page before meeting the ladies - Being on the same page with your partner is paramount as you can both appreciate and understand what each other are hoping to get from the experience and know what each other's boundaries are.
• Be clear about what you are after - Professional escorts are amazing at what they do but they are not telepathic, they appreciate when clients explain what they are after as it takes a lot of guess work out of the booking, it also means you spend more time doing what you enjoy.
• Have realistic expectations & don't stress - How was the first time for anything? Probably not that great.. Over thinking and overstressing is a massive mood killer, take it as an exciting new experience and run with it, the more relaxed you are, the more you will enjoy your time.
EXPERIENCED COUPLES
Yes, we do offer couples bookings at
Discreet
!
Couples bookings are available as both incall/outcall
We have a variety of ladies that service couples however their availabilities do vary, to find the best lady for you, please give our friendly reception staff a call to find out your options.
If you were after an outcall with one of the ladies and haven't booked previously, you may wish to let reception know the type of experience and lady you are after and we can pair you with the most suitable lady.
At Discreet, we are happy to help you explore your sexual fantasies and desires in an unjudgmental, safe and consensual environment.
We look forward to hearing from you if you have any further questions or would like to hear more about Couples Bookings.
To view more Blog posts head over to: https://www.discreet.net.au/blog/
No comments yet. Be the first to leave one.