Nude Massage
Share
Written on October 24th, 2020 by
Naughty Ads
Updated October 24th, 2020.
Viewed 918 times.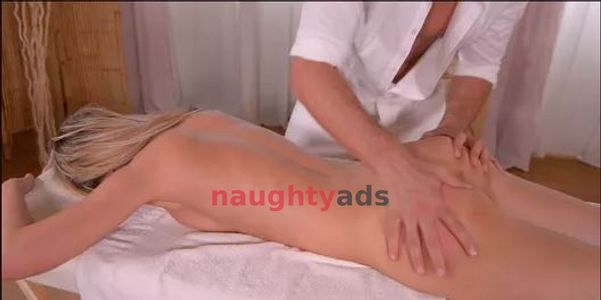 One of the most titillating experiences you can ever have is a Perth nude massage - to say you'll be turned on is an understatement. A nude massage, just as the name suggests, requires you to strip to down to your birthday suit. In most cases, before you get to the massage table, you will be asked to get into a robe and slippers as you wait for your therapist.
To some people, a massage may not be the best thing in the world - some people find intimacy with a stranger a hard pill to swallow. But think of it this way, what would be better than soft hands pushing into every muscle and knock on your back? Imagine some hot stones being placed on your back, and letting your body consume all the magnificent hot contrast, as the magical fingers slowly massage your spine. Imagine some natural oil on your feet, and soft fingers pushing against your muscles. Think about oil dripping across your nipples as hands explore the width of your chest. Magical hands touching and exploring every inch of your breasts. Soft hands working their way up your oily thighs into your lady bits/hard cock. You would love it. The experience would be one to relish.
A Perth nude massage is a great way of relaxing, and at the same time, exploring your sexual fantasies. Whether it's your first time to get a nude massage, or you're a regular visitor to the spas, here are a few things to keep in mind before getting into a nude massage session.
1. Take a good shower
Before showing up to your therapist, make sure that your skin is perfectly cleaned. It would be such a turn off for the therapist touching drops of sweat all over. Also, remember to trim your nails as the therapist will be massaging your feet. Remember to shave/wax your armpits.
2. Keep your phone away
This is an intimate and sacred moment where you connect with your sexual desires and therefore, any distractions are discouraged. Consider leaving your phone at home, or instead, the reception of the spa.
3. The choice of undressing is yours
Although this is a nude massage, and stripping naked is recommended, you also have the choice to undress to the level you feel is right for you. If you don't feel comfortable with the therapist staring at your naked body, stripping to your panties is allowed. However, remember its best served with no clothes on.
4. Communicate
If you feel like the therapist needs to know something about your body, don't hesitate to speak out. Also, feel free to speak to him/her about how you like your body handled.
Lastly, but most important, if you feel satisfied by the service, always leave a tip for the therapist!
No comments yet. Be the first to leave one.