What is it about Christmas that melts you faster than a snowman by the crackling fire? A RED DOOR AGENCY ESCORT companion!
Share
Written on December 18th, 2019 by
Red Door Agency
Updated December 18th, 2019.
Viewed 730 times.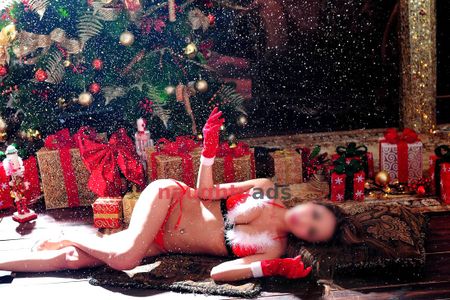 Christmas isn't intrinsically sexy you might say, and this is true. The focus is generally on the home & family or Gathering friends to share in happy moments sipping on champagne & cocktails that sometimes only happen at this time of year. The traditional thoughts we have about Christmas are happy scenes with loved ones around the tree, excited faces and smiles as beautiful bow tied presents are joyfully unwrapped.
Most of us unless you're the grinch absolutely love the Christmas Season and here at Red Door Agency it's no exception. Our very nice & very naughty escorts share their favourite ways to turn your silly season into a fantastic treat.
What is it about Christmas that melts me faster than a snowman by the crackling fire? A red door Agency companion by my side!
As our No 1 favourite seasonal event Christmas is the time Red Door escorts love to combine their naughtiest sexy fancy dress outfits with loads of festive frivolity. Guaranteed to get your heart pumping & your pulse racing.
Let's not miss this opportunity for some adult mischief, and with these cheeky ideas our escorts are sure to get their name so indelibly on Santa's naughty list he will only deliver an over the knee spanking.
Play little Elf on the Shelf
When you book your escort to your home let your playtime begin by pretending to be a little Elf and leave little sexy notes around where your escort can find them. Include messages about what you want to do to her, what you want her to do to you, what turns you on, and include as much filth as you can muster. Trust me it is all a bit of fun.
Fairy Lights in your Boudoir
Twinkly lights are not just to make your tree look magical imagine how sexy it can be when your escort arrives to make sexy love with you in your very own romantic haven with twinkly stars all around you. The mood will be sensual, erotic and very tantric. A great way to take your GFE to the next level.
Seasonal scented Candles are fabulous at Christmas time
You can choose from Scented candles to massage candles and really take advantage of those delicious scents to make your bedroom smell so delicious and look so sexy. Drip gorgeous warm scented candle wax on each other and melt into the extraordinary sensations of some gentle Kink.
I bet you never thought of Tinsel Ticklers
Erotic touch is mind-blowing at the best of times when a light feather or silk tie is gently swept across your naked body but using Christmas Tinsel takes it to a whole new level and such a fun way to journey through your Christmas foreplay. When your deeply aroused and skin flushed with excitement, you're going to go wild with the sensations of all the little Tinsel's fronds teasing every inch of your skin.
Oral pleasures of a different kind – chocolate body paint
What better time of year to forget about counting calories and all things good for our diet and simply get stuck into some lip and tongue action with CHOCOLATE BODY PAINT.
So messy but so much fun. Perhaps you are not into chocolate that's cool you can try lickable massage oils or lickable massage candles, or even just a good old fashioned can of whipped cream.
Yes, I know what you're thinking, using edibles in the bedroom can get awfully messy. And who wants to be changing sheets in the middle of the joyful festive season. Try the bathtub… Bathroom floor or just get yourself some good fluid proof bed sheets if this is your kink.
Did you know you can buy festive sex toys and games?
Red Door Escorts love the new clear glass dildo candy cane great for fantasy toy shows or a bit of Lesbo fun during a bisexual duo.
Nothing is sexier at Christmas than a gift to your escort in a kinky cracker… get her to pull and play.
If you want something a bit more indulgent perhaps you can give her a Horny holiday stocking with some toys and sexy notes to keep her wet until she sees you next time.
Sexy Santa Role Play
I'm sure we've all done our fair share of naughty sexy Santa stories. What would you do if you were my naughty Santa and I sat on your lap?
Would you bend me over your knee, Would you keep me tight on your crotch whilst whispering with your hot heavy breathing in my ear, would you want to pull out your cock and slide into my pulsating juicy cunt whilst you ask me what I want Santa to bring?
Hope you enjoy this festive foreplay advice and do enjoy your time with a horny little festive wench from Red Door Agency. She will be more than ready for you to have a spectacular climax.
Any excuse for making life more fun and sexier should be grabbed with both hands and what better time could be more pleasurable and heart-warming than the festive season.
Let Red Door Escorts relieve your tension and blow off your stress this holiday.
From all of us at Red Door Agency we wish you a very magical Christmas filled with teasing anticipation and spicy sexual pleasure.
No comments yet. Be the first to leave one.