Sexuality
Straight (Heterosexual)
Body
Athletic, Petite - Slim
Escort For
Men, Women, Couples
In-Call / Out-Call
In-Call, Out-Call
Last Update
January 21st, 2022
Gorgeuos Australian Model- Dream Girl
Hush escort Chloe is proof that blondes really do have more fun…
It's a fact that wild nights with wild women make the best memories. Ask
yourself – when is the last time you let loose, and had a late night out
that could put Vegas to shame? The type of adventure that became a
crazy blur of music, dancing and naked women, and saw you going to
sleep with a massive grin on your face and a bucket load of wild, hot
memories? The perfect party is only possible with the perfect party girl
companion. Let our most popular party girl escort Chloe take your hand
and lead you to a party that you will never forget.
Chloe is not only the life of the party, but of every room this 23 year old
stunner enters. A high class escort from Sydney, Chloe is the absolute
crème de la crème of Sydney escorts.
This young, amorous Aussie glamour and has long soft platinum blonde
tresses with bouncy beachy waves, an athletic toned figure with golden
tanned skin and legs for miles, big bright blue bedroom eyes and sexy full
lips topped off with a seductive suggestive smile. If you're a legs man,
you'll find yourself incapable of not staring as this Sydney escort enters
the room in a tight short skirt or a slit dress that emphasises the length of
her long, slender, perfectly toned legs.
Time spent with Chloe is always FUN, exciting and will leave you feeling
like a new man and breathless (in the best way possible!). This
glamourous Sydney escort has a personality more bubbly than expensive
champagne, and exudes sensuality and sexuality.
Whether you are looking for a party girl escort, a wild insatiable Pornstar
Experience with a young blonde bombshell, a passionate intimate
Girlfriend Experience, or you're a couple seeing a genuinely bisexual
escort for a couples escort booking – this naturally naughty, openminded
Sydney escort ticks all of the boxes and so much more.
You'll find Chloe to always be discrete, but be warned, she is the kind of
girl who will lean over and whisper something x-rated in your ear while
you're out in public. Don't be surprised if you find her perfectly manicured
hand travelling up your thigh under the table at the restaurant as she
innocently continues the conversation.
A night out with Chloe proves that anything is possible with a little lipstick
and a bottle of champagne…
Let the good times roll by arranging a date with Sydney party girl escort
Chloe by phoning our client liaison assistants on 1300 282 414.
My Testimonials
One of the Sexiest escorts ive seen in Sydney. She has a beautiful face ,killer body and loves to have naughty fun. I had a great time. Highly recommended.
Anal play - On you
BBBJ
CIM
Costumes and role play
Doggy style
Gagging
Kissing
Masturbation
Mutual French (oral)
Mutual natural oral
School girl
Sexy lingerie
Sexy shower for 2
Spanking - On you
Dirty Talk
Mutual Masturbation
Escort
Erotic Relaxation
Massage
Full Body Massage
Affectionate cuddling
Affectionate kissing
Costumes
Couples
DATY
GFE
Light bondage
MFF
Multiple positions
Overnight stays
PSE
Rimming
Social escort
Overnight
Passionate Kissing
Toys
Anal play - On me
CIMWS
DDP
Dinner companion
Erotic sensual massage
Full oil massage
Greek
Rimming - On me
Strip tease
Submissive
GS - On you
Natural oral
Foot fetish
Fetish
MILF
Facial
Boot Worship
Filming
MMF
FFM
FE
Squirting
Due to state legislation I am unable to provide complete details of my services. You can contact me for further information.
Only punters can view this section. If you have a question for the advertiser, please contact them directly.
No reviews yet. Be the first to leave one.
Slippery When Wet: Best Shower Sex Positions With HUSH Escorts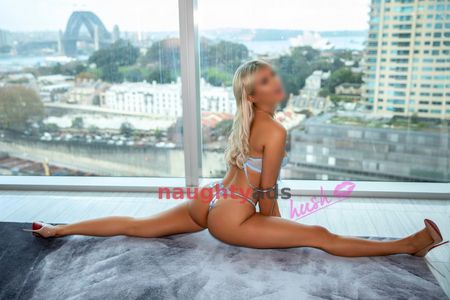 Slippery When Wet: Best Shower Sex Positions
In our imaginations (and in the movies) shower sex is the stuff of fantasies. Afterall, what's hotter than making out and having sex in the shower with someone who's naked and slippery with soap, as water cascading around you. Shower sex is inherently hot because it comes with a sense of urgency.
But if you've ever had shower sex, you've probably found that the reality didn't live up to your steamy fantasies (and it probably just felt downright dangerous). However, shower sex can be every bit as incredible in real life, you just need to bear a few things in mind.
Here are five of our tips for having better shower sex with our gorgeous escorts from our escort agency.
Shower sex doesn't have to be about penetration
Depending on the size of the shower, sometimes penetration can be impossible, so don't force it. Shower sex is better for foreplay, anyway. It lends itself to hot oral sex and is great for touching, teasing, kissing, rubbing and exploring each others bodies.
Pick your positions wisely
Avoid positions that require either parties to balance in any way – this is a slippery disaster waiting to happen. The Standing Doggy is your friend when it comes to shower sex, and should be your go-to. To ensure you both stay stable, have her put her hands against the shower wall and bend towards it at a 45-degree angle, keeping both feet on the ground. You can then penetrate her from behind, while reaching around to stimulate her breasts or clitoris.
Use sex toys designed for shower sex
If you're really dedicated to having sex in the shower, invest in some shower sex toys.
Yes, there are companies out there who make sex toys designed to help you have more comfortable sex in the shower. For example, Sex In The Shower makes a product called the Single Locking Suction Handle, which are basically handles attached to strong suction cups that cling to the shower walls so you can achieve more adventurous positions in the shower or bath.
There are also thousands of waterproof sex toys out there – from waterproof vibrators to cockrings - that you could bring into the shower to add some excitement to your play.
Be wary of soap
Covering your partner is soapy suds might seem sexy – until you get soap where it shouldn't go. Try not to get soap in each other's eyes, mouths or urethra – especially if it's a scented bodywash. Never use soap as lube – ensure you've got a lube in your shower caddy ready to go.
Use silicone-based lube
Which brings us to our next point… water isn't a substitute for lube. If you've ever had sex in a pool or a spa, you'll already know that water can be quite drying. Waterbased lube will just wash away, whereas a silicone-based lube has a thicker consistency and tends to be longer-lasting. Avoid oil-based lubes as they tend to degrade latex condoms. You might find you have to reapply the lube more than you normally would, but it will ensure things stay slippery and comfortable for all.
Ready to get steamy? Give us a call to arrange a booking with a high class Sydney escort today