Wednesday
10:00am - 5:00am
Thursday
10:00am - 5:00am
Saturday
10:00am - 5:00am
Name
Cleopatra's Of Sydney - Best Gentlemans Club in Sydney Area
Sexuality
Straight (Heterosexual)
Escort For
Men, Couples, Disabled
In-Call / Out-Call
In-Call
Last Update
July 4th, 2022
OPEN LATE 7 DAYS A WEEK UNTIL 5AM
Meet Sydney's Hottest and Sexiest ladies in a world class venue, at Cleopatra's Of Sydney - Wetherill Park.
Featuring stunning ladies that get nothing but great complimants from clients!
Book today on (02) 9609 6668
Visit Us: 12 Hargraves Place, Wetherill Park, 2164, NSW.

We are Western Sydney's only TRUE 5 star adult venue - brothel.
Under NEW ownership, with better and equiste service, plus exciting new renovations in the works...
Come for the gorgeous, sexually talented and diverse ladies, and stay for the unforgettable experience!

Cleopatra's Of Sydney has 11 rooms, including standard rooms and VIP Spa Rooms and our stunning mirror room. It also offers deluxe suites such as the Cleopatra Room, the Scarface themed Mark Antony Room or the Ancient Rome themed Imperial Room. Every room is clean, relaxing and full of character. Combine that with a beautiful lady, or two, and you have a night you will remember for a long time to come.

From the moment you walk into Cleopatra's Of Sydney, you will see why we are an award winning Five Star Brothel. A warm greeting from our receptionists, a complimentary drink at the bar and a beautiful lady on your arm; what more could you want? The fact is, Cleopatra's Of Sydney offers a lot more! Egyptian themed décor throughout the halls, rooms and meeting areas give guests the feel of opulence and luxury. From the classic erotic paintings on the walls to the Egyptians statues you'll find guiding you through the club, the stage will be set for your evening of pleasure.

We look forward to having you as our guest.
Check out LIVE daily rosters HERE:
https://www.cleopatrasgentlemansclub.com.au/cleopatra-roster/
Connect with us:
Snapchat: @cleopatrasgirls
Instagram: @cleopatras_ofsydney
Facebook: https://www.facebook.com/cleopatrasofsydney
Twitter: https://twitter.com/CleopatrasSydney

LADIES- WORK FOR US
We are Sydney's busiest and best venue,
We can ensure a discreet and confidenti
Paid cash daily, safe and clean working environment, flexible shifts day/night, NEW OWNERS, security 24/7, friendly all female staff, UPGRADED VENUE.
FREE FLIGHTS and ACCOMMODATION (offsite, modern townhouse) !
Don't settle for any venue, work at the best and have the option to rotate between our 3 INCREDIBLE venues!
APPLY TODAY, START TODAY!
https://www.cleopatrasgentlemansclub.com.au/adult-employment/
SMS Natasha on 0474 112 736
0474 112 736 or (02) 9609 6668
Apply online
https://www.cleopatrasgentlemansclub.com.au/adult-employment/
www.cleopatrasgentlemansclub.com.au
My Testimonials
John - Incredible place with great staff/girl. Constantly exceeds expectations every trip and the only girl I see is Grace and couldn't find words to describe her and her service but I'll do my best. Lovely from start to finish every time. Goes above and beyond to make sure every meeting is exciting, pleasurable and memorable. Not to mention the ear to ear smile is infectious. Lovely person and couldn't recommend her highly enough. Also the staff put you at ease and are extremely accommodating and understanding first timers have nothing to fear. Great Awesome 10/10

Victor C - One of the most well run establishments in Sydney. I've been here a couple times and the level of professionalism from the management and the girls is outstanding. The girls are all young, good looking and have real personality behind them that you can get along with. They're not there just to grab your money. They are there to show you a wonderful experience. Something that you can't get anywhere else. I ask the girls exactly the night that I'm looking to have, and they all fulfil it the way I wanted to be. Every time I leave after a visit, I always want to turn back and go back for seconds! Thank you to the girls at Cleopatra's and the management! 

Charlie T - I am a regular visitor who always enjoys the pleasure and company of the many attractive ladies at this venue. I think they are very selective in who they employ, as I do expect, at the prices I am paying, to only have to choose from stunning ladies who provide an exceptional service, and they never fail. Thanks for some beautiful memories.

The Fadz - A hidden gem! Unbelievably kind from reception to the models. Normal & special rooms are awesome the bar is MAD AS!
Nothing is more respectful than the discrete waiting rooms so awesome.
Never ever had a bad experience and every single girl has made me feel comfortable and welcomed. In the most positive way to put it it's kind of like a sanctuary for me to indulge enjoyably.

Nay Nay - Had an amazing time with Grace. Kept me entertained every minute and really know how to work with men especially shy ones lol..

Steve Ashton - This place has some stunning ladies. Have been a regular for many months and have always enjoyed the experience. Cheers.
Read More
Please let the advertiser know you found them on

naughty

ads
Only punters can view this section. If you have a question for the advertiser, please contact them directly.
No reviews yet. Be the first to leave one.
Have you met Cleopatra's NEW ladies yet?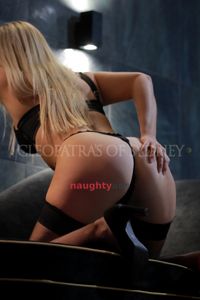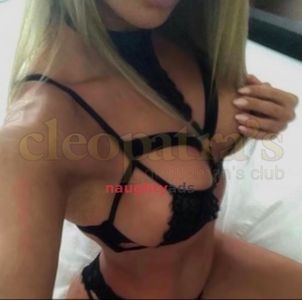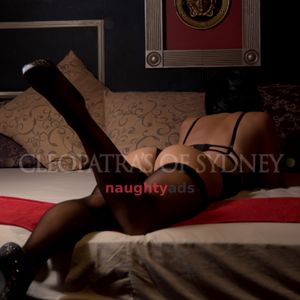 Here at Cleopatra's Of Sydney we are constantly rotating our ladies to ensure you can have a chance at meeting them. Every lady has her own set of sexual services and talents, and here at our venue you can experience them.
Currently we have some exciting NEW ladies that have chosen to work with us:
Blair: Our sizzling playmate with an exotic look, gorgeous breasts and a personality that lights up a room. Fiery red hair is sure to get you excited, making you feel like a king for the day!
London: Our petite, blonde stunner who loves to please you. She has a small figure with a DD size bust, that you will be lusting over. She is sensual, with an erotic side that loves to fulfil your fantasies.
Rihannah: New to the industry, she has a bubbly, infectious personality that will win you over. Her flexible luscious body, with an arousing array of services, is very accommodating and fun loving.
PLUS MANY MORE
Don't wait to meet them, head into our incredible venue today.
12 Hargraves Place, Wetherill Park, 2164, NSW.
02 9609 6668
Or to check when they're next available check out our roster HERE:
https://www.cleopatrasgentlemansclub.com.au/cleopatra-roster/