Getting ready for the date....
Share
Written on May 17th, 2021 by
Nadia Cox
Updated May 17th, 2021.
Viewed 530 times.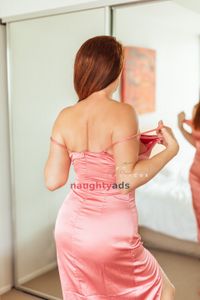 I know what you're thinking.
You might think my life is all but a dream with everything laid out for me with everything set in motion but in reality it's much more of waking up with my hair up, pyjamas on, coffee in hand and I log onto the website, but what you don't know is that as soon as I click on that available now button, time is a killer. All what I have to do is wait and more waiting. Waiting for that text or call to come in, as time fades away my mind begins to yonder. As hope begins to fade away, suddenly, ding ding! Those sounds speak volumes to me, like a kid in a candy store but in this situation, a potential booking. A shot of serotonin fuels me, in a sea of beautiful ladies, a perfect soul has chosen me to be Hera to his Zeus. With the few minutes of talking and organizing, he passes the screening method, I have the address, deposit, name, all the relevant details & time all set in place, you can bet I'm smiling from ear to ear as soon as he passes every hurdle to get this far. Now the exciting part begins!
Preparation time. I always get goosebumps about meeting somebody new, a little nervous but oh so excited to finally meet him. Every booking is a different chapter in the book, no two days are the same, they all have different flavours when it comes to desires, requests, even the pre-bookings with only a few days away, that sexual tension between us building waiting for the booking to commence - it can drive a girl a bit too excited at times, those are the best. I put on my CEO hat on when preparing for what is asked of me for the date, from booking the room, a memorable dinner restaurant, an overnight with a quick morning breakfast or perhaps I might unravel my closet for the dare I say 'interesting' night ahead, each date takes time to prepare with great dedication. It's not A- Z with me dressing up with my best outfit waiting patiently on the bed ready to conquered. If that's your expectation I won't say yes but I also wouldn't decline, allow me to take your hand and tell you what you're in for with me.
With any date, I get ready for action. I shower, shave, exfoliate, and moisturize, before doing my hair and makeup. The Uber is at the ready with the address pre-input so it'll take me straight to date, rush-free. I glance over the time and realize that the date is only less than an hour away, the tension and excitement builds up, and the nerves start to kick in. Those whispers start to creep in, "What if he doesn't like me?" As I am not 'face out' this a concern. Is my outfit appropriate or sexy enough? Is my lingerie the right colour or the right one? Yes, at times I overthink, I too am human after all with desires of wanting to impress him. To me, every detail makes a difference, whether it's an incall, I make sure the room is clean, the towels are in the bathroom neatly folded on the shower. I ensure that food and beverages of the wide variety available and if it's a longer booking... to the condoms, soaps, deodorant, mouthwash, lube and sex toys, I always come prepared - that is my satisfaction guarantee. Voila! Everything is set in motion. It's for an outcall, I get everything organized with a small bag of supplies. Then it's time to go! I order the Uber and inform him I'm about to leave, once I'm in the Uber, another reminder is sent to alert him I've left and I'm almost so that he can expect me shortly.
As I arrive, he greets me at the Uber or I come up to the room, he opens the door and I greet him with a big friendly smile or hug and introduce myself. I'm never strict on routine, I go naturally with the flow for what's about to transpire, that's the exciting part, because I never know what to expect and I'm always on my toes about it.
Thus, we make small chit chat coupled with a few flirting jokes here and there combined with cheeky flirts that leads to that fateful first kiss. Before you know it, things get hot and heavy... my dress comes off, his shirt is on the floor, our hands are wandering all over our bodies... He presses me up against the wall and holds my arms above my head with one hand while sliding his other hand slowly up the side of my body gently stroking my side as he leans in for a long steamy kiss, after that is all up to the imagination of his wants and desires with me at his every whim. You know what they say, time flies fast when you're having fun and we are wrapped up in the sheets snuggled up, nestled on bed together catching our breaths. We get up, we shower together, showering together is always the fun part - Nothing beats soaping each other up with dare I say 'steamy' kisses in the shower. We get dressed up and I am on my way.
With some small talk, laughs and more flirting whilst he walks me to the door or Uber, we say our farewells with a long lasting lingering kiss and a warm embracing hug, then I bid adieu....with feelings of contentment. It was an amazing time. I was delighted with the outcome. And just like that, I fade into the shadows of the night.
Now, I know what you're thinking, can I be the main character in this story?
Truth be told, I want you to be.
No comments yet. Be the first to leave one.