Creating Storm
Share
Written on February 21st, 2020 by
Storm Tropical
Updated February 21st, 2020.
Viewed 460 times.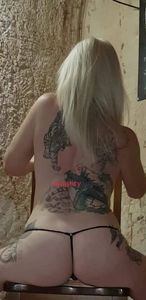 The sexual Storm in me began at a very young age and selling my self for money on the streets of the notorious St Kilda until the age of 18....
Having a family and living a normal life only brewed the Storm 1 sexual endeavor was never enough to tame her retirning to the escort scene at age 33 along with fuck buddys on the side my fetishes grew I now must indulge in regular fist fucks to keep my pussy tight only ever feeling sorry for the specimens hands when they say are u sure I dont want to hurt you sweetie my reply I hope ur fist can withstand the clenching of my pussy I love to be spanked repeatedly over a good lengthly sex sesion it must remind me of my naughtiness for a further 2 weeks as the pain is orgasmic on its self ... A long many ayears of sexual deviously promiscuous sex has created this storm and I love her as do the many men lucky enough to encounter her be it for business or just her pure pleasure once she has locked you in you are fucked hahaha💋
No comments yet. Be the first to leave one.